9 Reasons NOT to Use Bleach to Kill Mold
11/23/2021 (Permalink)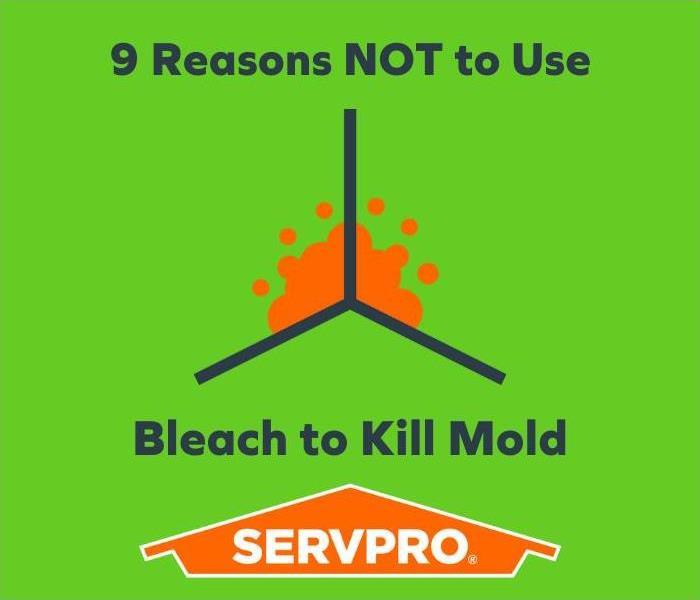 The use of Bleach as an all-purpose cleaning agent has been widely distributed by DIY blogs and even notable websites such as Huffington Post. This is especially true when it comes to cleaning Mold.
The truth of the matter is that using chlorine bleach may cause more damage than good.
The Occupational Safety and Health Administration (OSHA) as well as the Environmental Protection Agency (EPA), recommends NOT using bleach to kill mold.
Here are 9 Reasons NOT to Use Bleach to Kill Mold:
1. Bleach introduces excess moisture on porous surfaces. A Bleach cleaning solution can contain up to 90% water. Chlorine quickly evaporates leaving the water that soaks into porous surfaces like wood. This encourages mold growth.
2. Bleach will not kill the roots or hyphae. On a porous surface, bleach will wipe away the visible mold, but will not penetrate the many roots caused by the mold.
3. The EPA and OSHA specifically advise against using bleach for mold remediation. High-level organizations focused on public health & safety set the standard for not using bleach as a mold cleaning agent.
4. Bleach is harmful and corrosive. Bleach will weaken wood and metal, breaking down the fibers and corroding metal.
5. Bleach is an irritant. Bleach releases chlorine gas, causing damage to skin, eyes, lungs, and even clothing.
6. When mixed, bleach can be deadly. Mixing bleach with other cleaners or acids can release deadly gases that can kill if inhaled.
7. Inactivation by Organic Matter. Bleach quickly loses its strength after being exposed to heat or light. Because of that, it doesn't prevent future microbial growth.
8. Most bleach products are not on the EPA Approved List of antimicrobial agents. This list features cleaning agents approved for commercial or residential use.
9. Approved antimicrobial alternatives are readily available. These agents are specifically designed to kill mold and prevent microbial growth. They tend to be cost-effective, safe, and easy to use.
Mold is not a DIY job. If you suspect mold at your Southern California commercial or residential property, SERVPRO® of Downey is works to remediate mold from the source. Call us, (562) 392-3007
SERVPRO® of Downey, Montebello, Compton, Vernon are your Mold Professionals. Call us to schedule an appointment, (562) 392-3007